What Is The Job Description Of A Data Entry Specialist?
DATA ENTRY – Becoming a Data Entry Specialist in the BPO industry is one of the most desired career paths in the Philippines this 2022, but what exactly is the job description?
In this article, we are going to learn more about what a Data Entry Specialist is and its key responsibilities. Furthermore, we're going to talk about some of the qualifications and skills that make a great Data Entry Specialist.
WHAT IS A DATA ENTRY SPECIALIST?
A Data Entry Specialist is someone that digitizes data. Moreover, these people help with administrative tasks focused on collecting client information, maintaining filing systems, and ensuring data are accurate and complete.
Still, the exact tasks of a data entry specialist depend on the client or business. For example, some organizations would need you to enter client info or update entries. Meanwhile, others require you to organize hard copies into encoded documents.
Here are some of the important functions of a Data Entry Specialist:
Collecting data including but not limited to bills, client info, financial statements, invoices, or receipts.
Ensuring data is accurate and complete
Organizing storage systems
Fixing data inconsistencies
Answering queries related to data or data errors in the system
However, the job description of a Data Entry Specialist can also depend on the level of experience. As such, the best data entry specialists have developed a keen eye for detail. Additionally, they also need strong computer skills and a basic understanding of databases and typing shortcuts.
For entry-level Data Entry Specialist duties, one might expect basic encoding of data into databases. Meanwhile, a Senior Specialist may be tasked to complete information analysis and create reports based on collected data.
Additionally, they may also need to be able to train, supervise, and still be able to encode large quantities of data. But, regardless of experience, you need to have some Microsoft Office skills, especially familiarity with Microsoft Word and Excel.
Skills of a data entry specialist
As a data entry specialist, you are required to have strong attention to detail. Additionally, you need to be able to multitask effectively as tasks might overlap. Along with this, a data entry specialist needs to have excellent communication skills.
Also, working as a data entry specialist means you need to be comfortable with working on repetitive tasks with a high level of accuracy. Aside from this, specialists need to be able to work independently with minimal supervision.
Where can I find a Data Entry Job in the Philippines?
Applying for a data entry job in the Philippines has never been easier. With the rapid expansion of the Business Process Outsourcing (BPO) industry, more and more businesses are looking for Data Entry Specialists.
Apply now as a Data Entry Specialist and receive a P20,000* signing bonus when you get hired!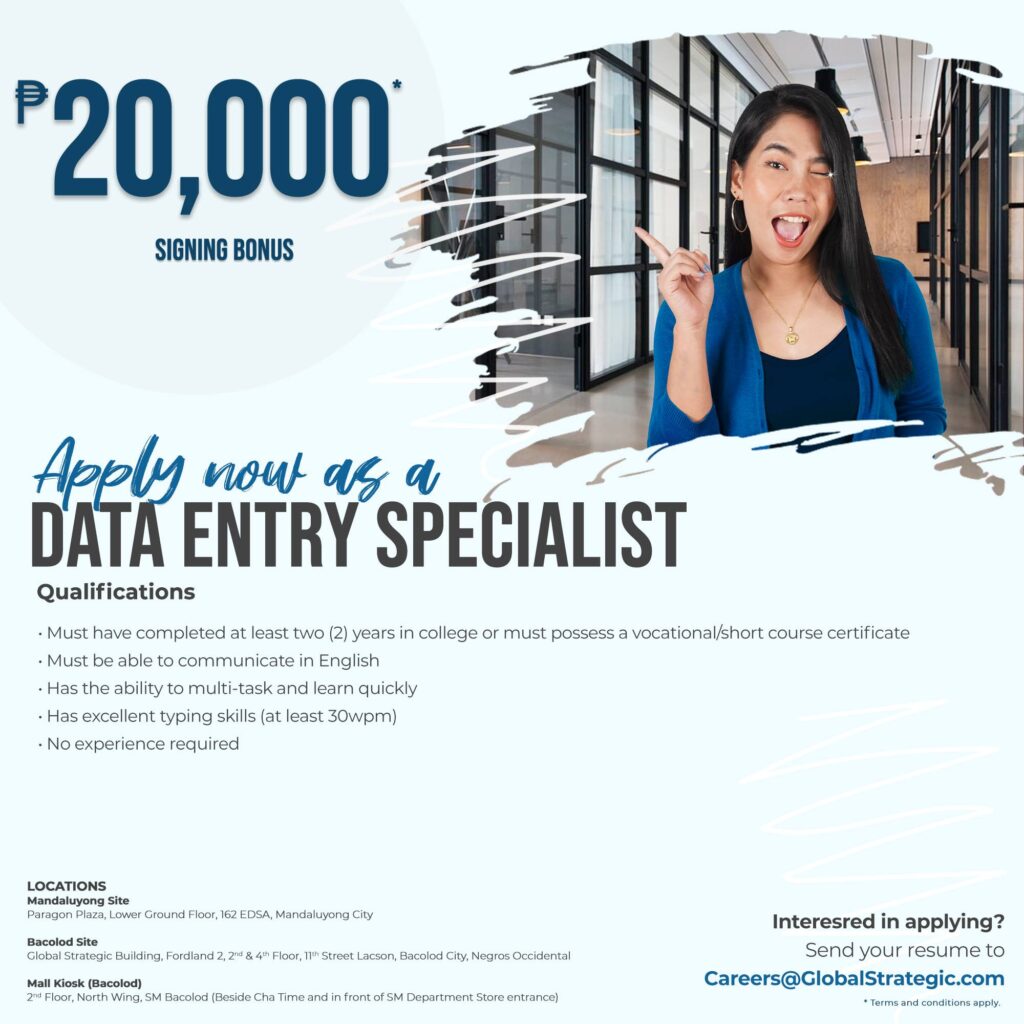 At Global Strategic, even those without any experience are welcome to apply! With that being said, here are some of the qualifications needed for a data entry specialist role:
Must have completed at least two (2) years in college or must possess a vocational/short course certificate
Must be able to communicate in English
Has the ability to multi-task and learn quickly
Has excellent typing skills (at least 30wpm)
Locations:
Mandaluyong Site
Paragon Plaza, Lower Ground Floor, 162 EDSA, Mandaluyong City
Bacolod Site
Global Strategic Building, Fordland 2, 2nd & 4th Floor, 11th Street Lacson, Bacolod City, Negros Occidental
Mall Kiosk (Bacolod)
2nd Floor, North Wing, SM Bacolod (Beside Cha Time and in front of SM Department Store entrance)
Whether you are a fresh grad looking for your first step towards a career, are in another industry, or you are already a Data Entry Specialist and looking for a change, apply today- Global Strategic would love to hear from you!