Simple Typing Jobs You Can Easily Apply for in the Philippines This 2022
Companies in the Philippines are consistently looking for applicants to fill up typing jobs. And, a career as a Data Entry Specialist is among the most popular jobs in the Philippines this 2022. This is especially true for recent grads or career shifters. With all the demand, some people are having difficulties in finding the ideal typing job in the country. So, we're here to help!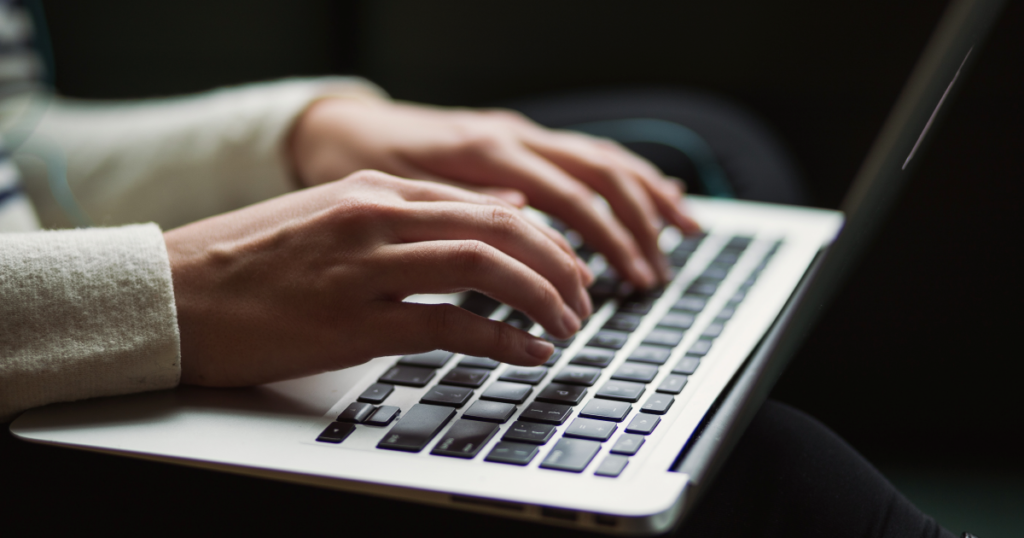 First off, typing jobs are a legitimate way to get into the booming industry even if you are not confident speaking on the phone. Thousands of people have started wonderful careers in this field and put their typing skills to work. Furthermore, looking for these types of jobs is easy and simple, especially for fresh graduates or those with no experience.
That's why in this article, we'll be taking a look at the best typing jobs you can find in the country. Moreover, we're going to list some pros and cons and frequently asked questions regarding some of these top jobs in the Philippines.
But, before we go any further, let's first discuss what exactly is a typing job – the duties and responsibilities, and more.
What are typing jobs?
A typing job can cover a broad range of job descriptions depending on the client, but one thing is for sure – it's going to involve a lot of heavy typing. Fear not, this shouldn't be an issue even for beginners.
The key thing that you need to understand here is you'd need to handle and process data. Thus, ensuring that the data you type in is accurate and correct will be a big part of your daily routine. So, if you're comfortable with that and looking for a job that's rewarding and has a good career path, then data entry might just be the perfect fit for you.
Among the most common typing jobs, you'd find are data entry, content writing, and transcription jobs. Additionally, you could choose to go freelancing or apply to a BPO company that helps you easily connect with clients.
What are the Pros and Cons of Typing Jobs?
Much like all jobs out there, data entry has its own set of pros and cons. So, if you're not sure whether or not to start a career in data entry, maybe this would help you decide.
Pros of Data Entry Jobs
The workload is repetitive and simple to do
There is no outbound or inbound call requirements
Little to no client-facing duties
Simple enough for entry-level professionals.
Easily learned
Cons of Data Entry Jobs
The pay may be lower compared to other online jobs
Fierce competition in the freelance space due to saturation in the market.
With that out of the way, here are the top 5 typing jobs in the Philippines you can apply for online.
Top Data Entry Jobs in the Philippines
As the BPO industry in the Philippines continues to grow, more and more companies are looking for data entry specialists to fill up positions. Additionally, because of this growth, the job descriptions for typing jobs also expanded. That being said, it's easier to find data entry work in the BPO industry rather than freelancing. Now, let's take a look at some of the most popular data entry jobs in the Philippines.
Transcriptionist
Having a job as a transcriptionist requires you to have excellent listening skills. Furthermore, you need to have a good grasp of English grammar, semantics, fast typing skills, and accuracy. This job requires a person to convert audio or video into digital texts.
Unfortunately, even if the job description is easy, breaking into the market can sometimes be difficult as there is a lot of competition. Meanwhile, if you do manage to get a job as a transcriptionist, your day-to-day tasks can be a breeze as it's not as taxing when compared to other jobs but do require a strong attention to detail and the ability to focus for long periods of time.
Data Entry Specialists
Along with Virtual Assistant or Back Office Associate jobs, a position as a Data Entry Specialist is rising in popularity. Depending on the client, you could have different job descriptions.
Generally, you'd be tasked with administrative work, organizing data into a database, or converting hard copies into digitalized formats.
At Global Strategic, fresh graduates and those with at least two years of college finished can easily apply through our online portal. Additionally, those with a vocational or short course certificate can also apply.
Here are some of the important functions of a Data Entry Specialist:
Collecting data including but not limited to bills, client info, financial statements, invoices, or receipts.
Ensuring data is accurate and complete
Organizing storage systems
Fixing data inconsistencies
Answering queries related to data or data errors in the system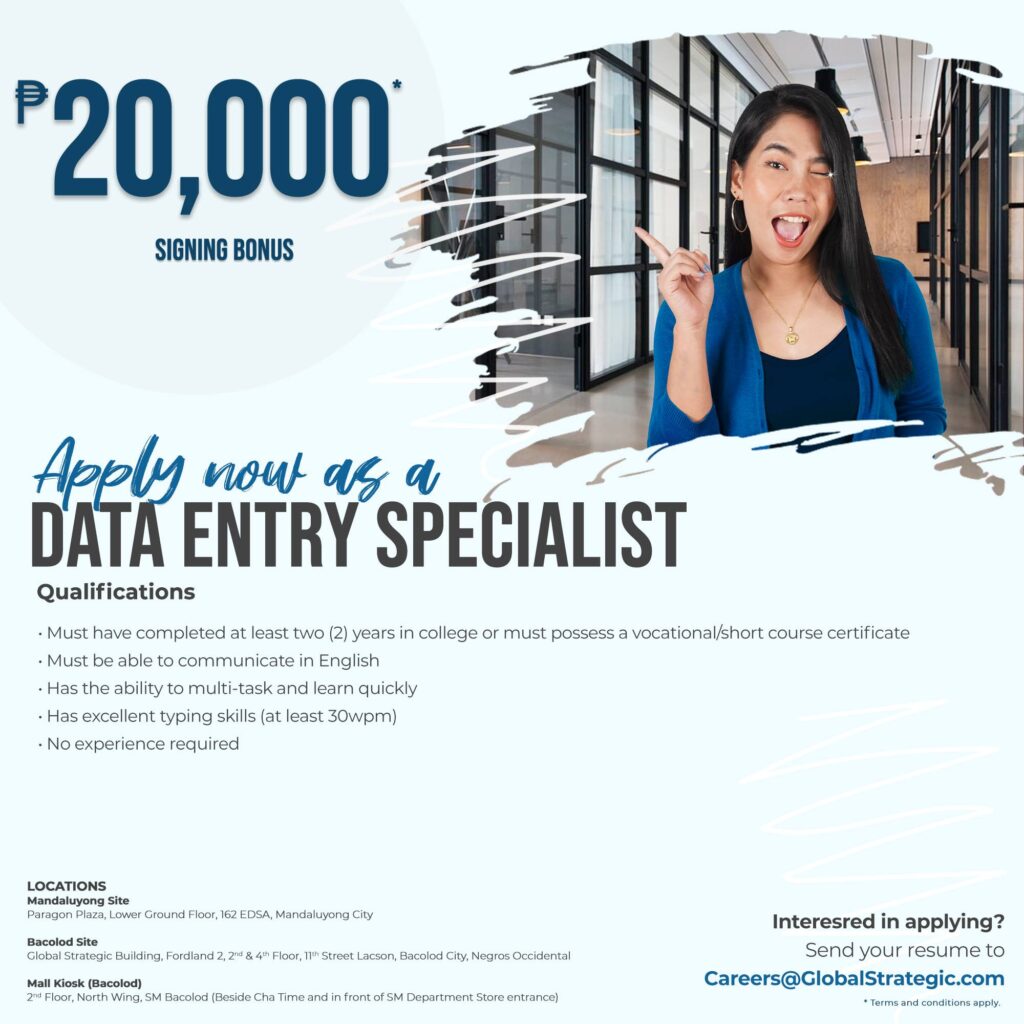 Content Writing
If you're into writing, then, finding an online job as a content writer would be perfect for you. The main thing you need to know is that you don't need to be the best writer to excel. The skills you need most are good research skills, a passion to learn new things, and a love for writing.
Resume Writing
Even with all the free templates and samples online, you'd best believe that people are still hiring others to write resumes for them. Some industries are just so competitive that you really need to stand out. And, hiring an expert may be that differentiator.
If you have a talent for writing resumes, then this could be the one for you. For those with a previous background in HR or Recruitment, this job should be easy as you already know what recruiters would be looking for.
Proofreading or Editing
A proofreader/editor's role is to check that a document is grammatically correct, formatted correctly, concise, and so on. Of fact, editing entails much more than simply correcting grammar errors.
If you're a writer, though, this type of online typing job can easily be transitioned into. There are many websites that require proofreading/editing services, as well as clients who require it for their books/ebooks.
So now that you know the best typing jobs in the Philippines, it's time to take the next step in your career.
Whether you are a fresh grad looking for your first step towards your goals, are in another industry, or you are already a Data Entry Specialist and looking for a change, apply today- Global Strategic would love to hear from you!