Can a Data Entry Specialist in the Philippines Become a Virtual Assistant?
Can you become a Virtual Assistant who specializes in data entry? Well, the quick answer is YES! In recent years, the Philippines saw a rise in the popularity of remote jobs. Among the most sought-after ones are Data Entry, Call Center, and Back-Office Associate positions.
In the Philippines, thousands of people are already working as Data Encoders. Some work freelance as Virtual Assistants. Meanwhile, there's a large percentage of people working as Data Entry Specialists in the Business Process Outsourcing (BPO) industry.
So, what exactly is Data Entry?
Those working in data entry need to verify or digitize data. Along with this, a Data Entry Specialist's job description includes helping with administrative tasks.
Still, the exact tasks will usually depend on the client or business. For example, a client may require you to collect data, bills, client info, financial statements, invoices, or receipts.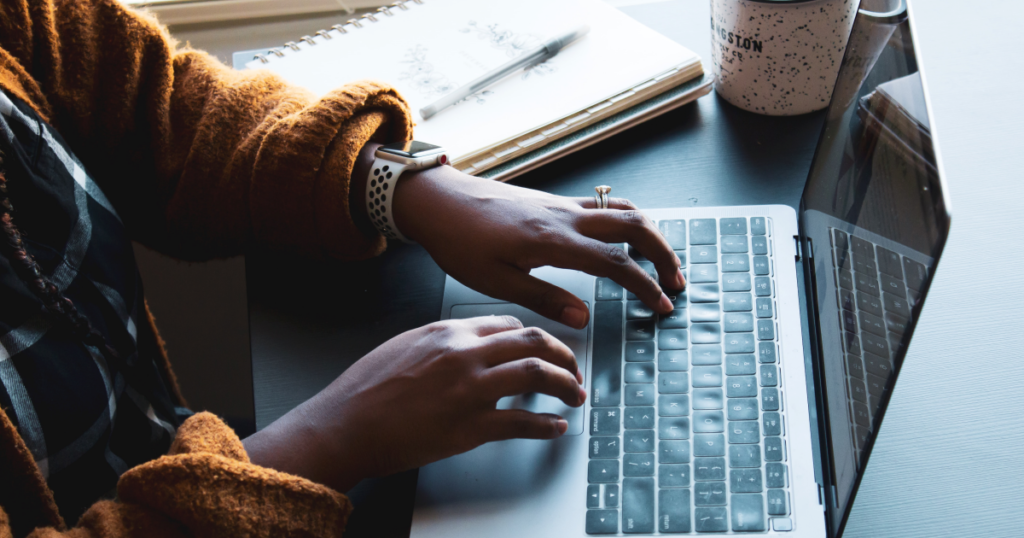 If you have no experience yet as a Data Entry Specialist, check out our guide here regarding data entry job descriptions, key responsibilities, and more.
Freelance Data Entry Specialist VS BPO
Similar to freelancers, those working in BPO companies can also work for international clients. The main differences are the fixed schedule (which also may occur as a freelancer) as well as the financial security and benefits.
Working freelance means that you'd have to find your own clients, keeping in mind that you need to compete with thousands more data entry specialists online from all across the globe. So, if you have no experience, you may have a difficult time securing clients.
It is still possible to land clients that are willing to give a newbie a shot, but generally experienced agents receive first preference. On the other hand, BPO companies are more than willing to hire those without experience.
Here, you'd receive training from top industry professionals and get a clear career development path. With that in mind, here are some pros and cons of working as a freelance data encoder:
Data Entry Specialist Pros and Cons – Freelancing from the Philippines
As a freelancer with clients, you can already call yourself a "Virtual Assistant" as you'd likely be working remotely. For some people, freelancing is a dream, but for many others, freelancing can be a gamble, especially if you need a consistent flow of cash.
Sadly, not everyone can afford to become freelance Virtual Assistants if you don't secure clients, you won't have any source of income. That's why it's recommended to have a little money saved in case things don't pan out.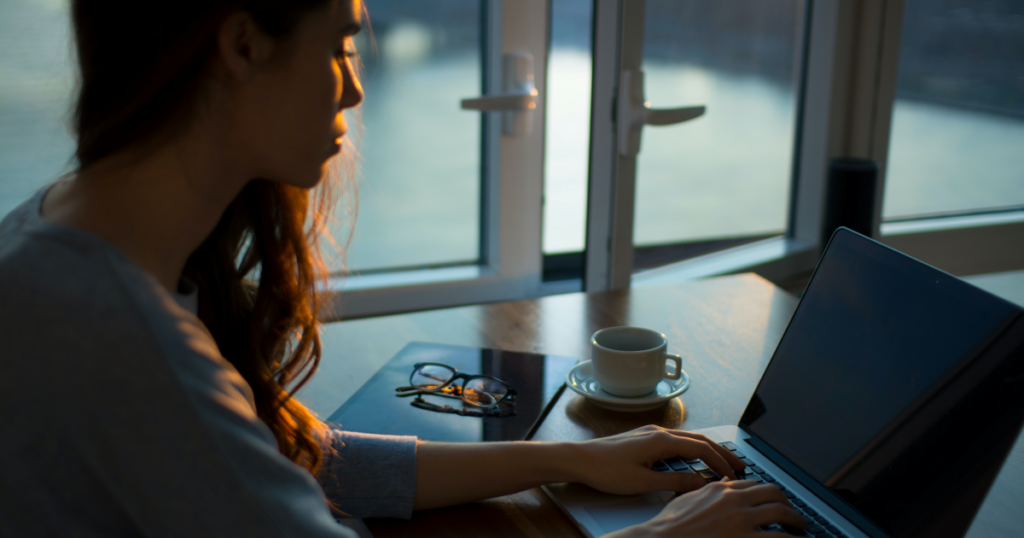 But getting a job as a freelance data entry Virtual Assistant can also be rewarding. Job seekers can often work on their own time, choose who they want to work with, and work remotely from anywhere.
However, it's best to stay grounded when it comes to our expectations of the gig economy. For starters, the market for Data Entry Specialists is highly saturated and this means that you can expect to see tough competition within the space.
According to Payscale, the hourly rate of data entry specialists from India can go as low as ₹50 or roughly $0.65 (P50.00). Even those with experience charge lower rates to attract more clients.
Pros Of Data Entry Freelancing
As mentioned earlier, the most obvious pro of going freelance is taking control of your own time. As a freelancer, you're not necessarily bound to the usual 8-5 shift, though many clients will insist on a fixed schedule, often overnight.
Despite this, you do take more control and may be able to dictate your terms more freely. You can easily find online data entry jobs in the Philippines.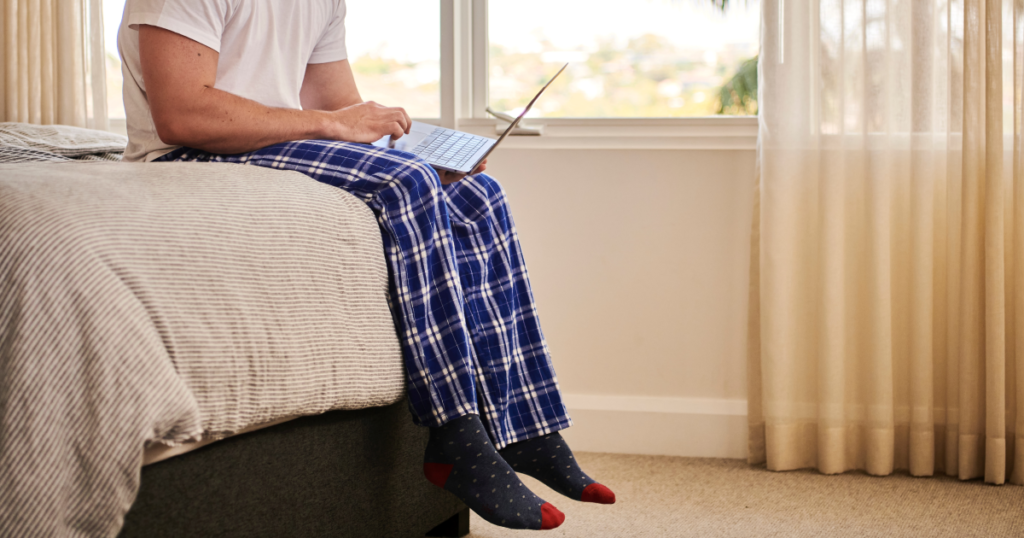 Currently, the most popular platforms to go for are Upwork, online job boards, or even sites such as Reddit. Every day, you get updated with new job listings and opportunities. Plus, you get the added benefit of working directly with a client.
You can work at your own pace and connect with the people you want to. Additionally, you get to save on transportation fees as you don't need to go to the office.
Amid the pandemic, you'd also be safer working from home- although most BPO companies have vaccination policies already in place to ensure the health and safety of their workers.
Moreover, you can possibly have a better work-life balance. This means that you can finish your deadlines on time while still having enough time left for your personal hobbies, passions, or friends.
That said, here are the pros of pursuing a home-based freelance data entry virtual assistant job:
Online Job Opportunities for Data Entry Specialists
Although the market is saturated with thousands upon thousands of freelancers, there's still a client or business looking for Data Entry Specialists every day. Almost every type of business needs data entry.
Considering how much data and information is valued, there's no wonder why this position is always in demand. In the Philippines, the most popular avenues for freelancing are Upwork, Fiverr, Facebook pages, or Reddit.
Also, data entry occupies a large scope of industries. Thus, you can find a job almost anywhere. According to an article from Superstaff, there's even a high demand for data encoders in the Film and Video industry.
Additionally, you can find data entry online jobs for travel and tourism, insurance, healthcare, real estate, banking, E-commerce, logistics, and more.
More Companies are Outsourcing
More and more companies and businesses are shifting to outsourcing a virtual workforce. Aside from less expensive labor costs, companies are looking at the Philippines for talent.
With companies outsourcing heavy administrative tasks such as data entry, they're free to focus on other valuable facets. Keep in mind that outsourcing doesn't just save money, it also saves time for clients.
And, for businesses in competitive industries such as real estate, having extra time is worth gold. Through outsourcing to freelance data entry specialists, businesses can put their time into building and developing relationships, improving sales, and innovating their services.
Flexible Working Schedule / Remote Work
You may have more control of your own time if you choose the freelancer route, though this will still depend on the client that you land. Some will want you to match their business hours which is often overnight, but for others, you'd be able to control when you start or end your work.
As long as your client is happy with the outcome of your work then you don't need to worry. Another benefit of having a flexible work schedule is having more time for family and friends.
You can also pursue hobbies further with the extra time that you have. And, more importantly, you get to work anywhere.
Cons of Freelance Data Entry Jobs
Inconsistent Income Stream
One of the major disadvantages of working as a freelance data entry specialist is income. Some months, you'd have lots of clients, others, not so much.
The variable inconsistency when it comes to freelancing should become a big factor in your decision-making. You need to ensure that you learn and manage all the variables to manage and prioritize your finances.
According to an article from The Balance Careers, workloads can vary from month to month making it quite difficult to predict. This is especially true when you're just starting out as a data entry specialist with no experience.
These large swings in income can sometimes be so volatile that most would find it difficult to budget. So, if you have a family to feed and bills to pay monthly, this is something you should be considering.
Lack of Benefits
As a freelancer, you are also somebody that's called an "independent contractor". Thus, you can't receive employee benefits mandated by the Philippines. Additionally, you won't get access to insurance or health care benefits.
In the Philippines, you also have to manually file important government contributions such as SSS or PAG-IBIG. Additionally, health insurance can become costly for self-employed workers.
Among the other benefits, you won't receive as a freelance data entry specialist is the 13th month's pay. Generally, this is equal to 1/12 of an employee's base salary and is pro-rated depending on when the employee started working at a company.
Along with this, there are several social welfare benefits that you'd be missing out on.
Initial Capital to Start Freelancing
If you want to become a freelancer in the Philippines, then you need to ensure that your machine can handle your client's needs. As such, you'd need to invest in a good desktop computer or laptop.
Additionally, you also need to buy peripherals such as a good headset, speakers, keyboards, mouse, and an Uninterruptable Power Supply or UPS.
Furthermore, you need to consider the frequent power outages in the Philippines. With that, you might also need to invest in a generator just in case a long outage is scheduled.
Generally, you need about P30,000 to buy a good quality computer that can handle most modern tasks. However, some clients require their virtual assistants to have specific computer specifications which cost extra. Don't forget about the good internet connection as you will need to ensure you can complete the work without lag or interruption.
Is Freelancing Data Entry for Me?
Considering the pros and cons above, now's the time to ask "Is freelancing for me?". If you have the initial cash to invest in the equipment, and if you're secure enough financially to pursue freelancing, then you can certainly consider it.
But, if you have a steady set of bills to pay, a family to feed, mortgages, or debt, then you might want to consider an alternative to freelance data entry.
Even though freelancing can offer you a more flexible work schedule, there will be clients that need you to work on-call. That means that even if you'd scheduled vacation, you can still get a call due to an unexpected problem.
No Experience Data Entry Freelance
When you're starting out in data entry with no experience, you might even work more hours than in a traditional office setting. Moreover, it takes time to get used to using the new tools your client requires.
Another thing you need to consider is accountability for your work. As a freelancer, the success and failure of your clients and their businesses might lay on your shoulders. To survive without training, management, or other employees to keep you on track, you need to become incredibly disciplined.
So, if you decide not to work freelance, another great alternative is working for a BPO company. With the help of a BPO company, you can get job security, benefits, training, and career advancement opportunities.
Data Entry In BPO
Even with no experience, you can definitely get a data entry job with a BPO company. Becoming a Data Entry Specialist in the BPO industry is one of the most desired career paths in the Philippines this 2022.
Applying for a data entry job in the Philippines has never been easier. With the rapid expansion of the BPO industry, more and more businesses are looking for Data Entry Specialists.
In Global Strategic, those with or without experience are welcome to apply as data entry specialists. Apply now as a Data Entry Specialist and receive a P20,000* signing bonus when you get hired!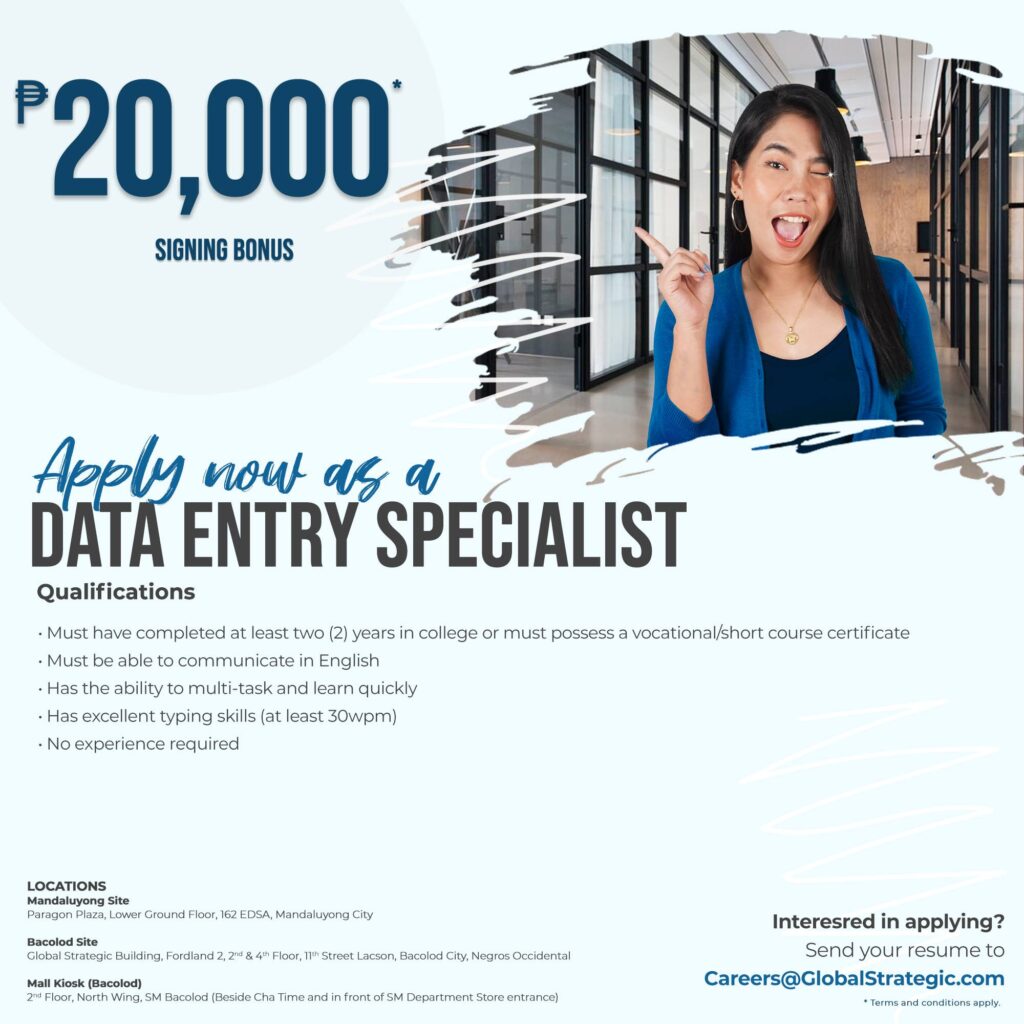 At Global Strategic, even those without any experience are welcome to apply! With that being said, here are some of the qualifications needed for a data entry specialist role:
Must have completed at least two (2) years in college or must possess a vocational/short course certificate
Must be able to communicate in English
Has the ability to multi-task and learn quickly
Has excellent typing skills (at least 30wpm)
Whether you are a fresh grad looking for your first step towards a career, are in another industry, or you are already a Data Entry Specialist and looking for a change, apply today- Global Strategic would love to hear from you!
Now, let's take a look at the benefits of working as a Data Entry Specialist in BPO
Benefits Data Entry Specialists Receive in BPO Companies
BPOs and call center companies are always looking for data entry specialists daily. Basically, what a freelancer does for clients is the same thing as those who work in an outsourcing company.
However, the biggest difference between the two is stability when it comes to income streams and benefits. The company will find you, clients, to work on and you will have permanent and regular work.
As an employee of a BPO company, you and possibly your family will usually get health care and insurance. Aside from this, you'd get a steady stream of income in the form of your monthly salary as well as possible bonuses and other benefits.
As such, a large percentage of people opt to go the BPO route instead of freelancing.
Here are the pros of working as a data entry specialist in the Philippines:
Healthcare and Insurance
BPO firms are known for offering some of the best benefits to their employees. Health benefits and life insurance are two examples.
Most businesses have ties to clinics that can provide free consultations. In addition, if you get sick at work, BPOs provide on-site nurses and doctors.
In addition, you can extend your insurance and health benefits to a family member. This may be highly useful in an emergency.
Career Advancements in BPO
When comparing home-based vs. office-based data entry professionals, it's important to think about career progression.
Assume you're a novice looking to establish a profession as a Data Entry Specialist. You've read a lot of articles about what it takes to work as a data encoder on the internet. Nothing, however, compares to learning directly from industry experts with years of experience.
Working for a BPO business allows you to contact clients directly without having to compete with tens of thousands of other data entry specialists. Along with this, you'll have a plethora of options for growth and even branching out into new fields.
As a freelancer, your opportunities for advancement are limited, if not impossible. When working for a BPO company, your skills can shine and you can advance into leadership and other positions and build a long-term career.
Updated Equipment
If you want to establish your own data entry business, you'll need to invest in costly equipment. In general, you can get by with an old laptop, but the results will vary.
For starters, a good laptop must meet certain specifications in order to be suitable for data entry jobs. Furthermore, when it comes to your equipment, some clients have a minimum spec needed.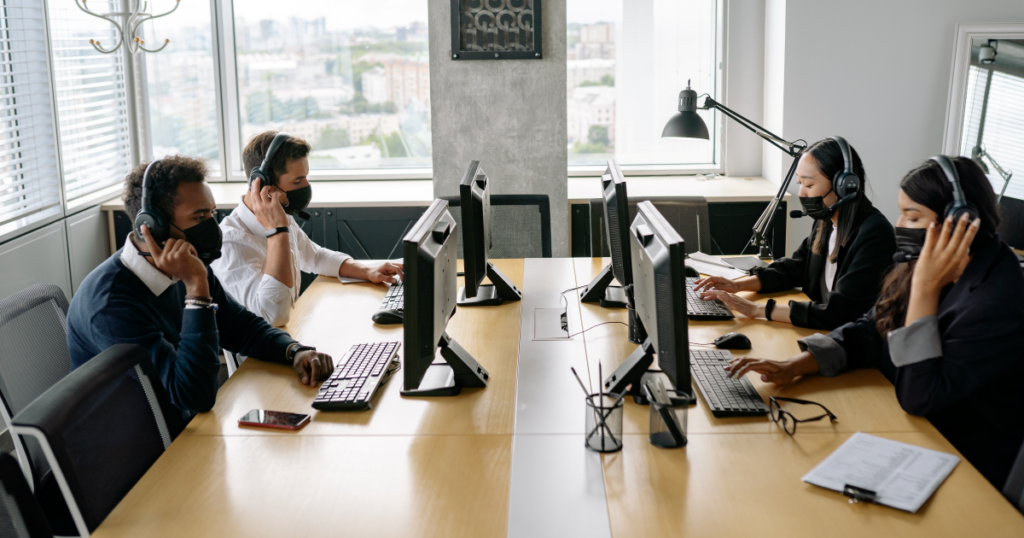 Working at a BPO business, on the other hand, assures that you have the best equipment for the job. Thanks to in-house IT staff, any difficulties with your equipment can be easily addressed or replaced. The best part is that none of these will cost you anything.
Comfortable Work Environment
BPO companies enjoy some of the nicest amenities. If you work for a BPO firm, you're likely to find facilities designed to meet the demands of staff.
There would also be sleeping accommodations for graveyard shift workers. A pantry, training rooms, and much more would be included. Fast and stable internet connections are also available to you.
You also get the added benefit of having a social network with your colleagues. You will meet new friends and possibly even romantic partners.
Not only can you rely on them to help you if you have questions about the work, but they also can become a great part of your working experience versus being completely isolated working as a freelancer.
Whether you are a fresh grad looking for your first step towards a career, are in another industry, or you are already a Data Entry Specialist and looking for a change, apply today– Global Strategic we would love to hear from you!