Call Center Hiring 2022 – How To Apply Online With No Experience
CALL CENTER HIRING –With or without experience, becoming a Call Center Agent has never been easier and more popular in the Philippines.
Thanks to the booming BPO industry in the Philippines, there are lots of vacant Call Center Agent positions to fill the rapid growth in the outsourcing industry. This has led to millions of Filipinos pursuing this as a career, with more and more each year. Without a doubt, a position as a call center representative is still one of the most in-demand jobs in the Philippines.
At Global Strategic, even fresh graduates with no experience are welcome to apply for a Call Center Representative (CSR) position. Furthermore, applicants can send their resumes through our online platform.
We are looking for Call Center Representatives to join our strategically awesome team! #ApplyNow and receive a P20,000 signing bonus when you get hired.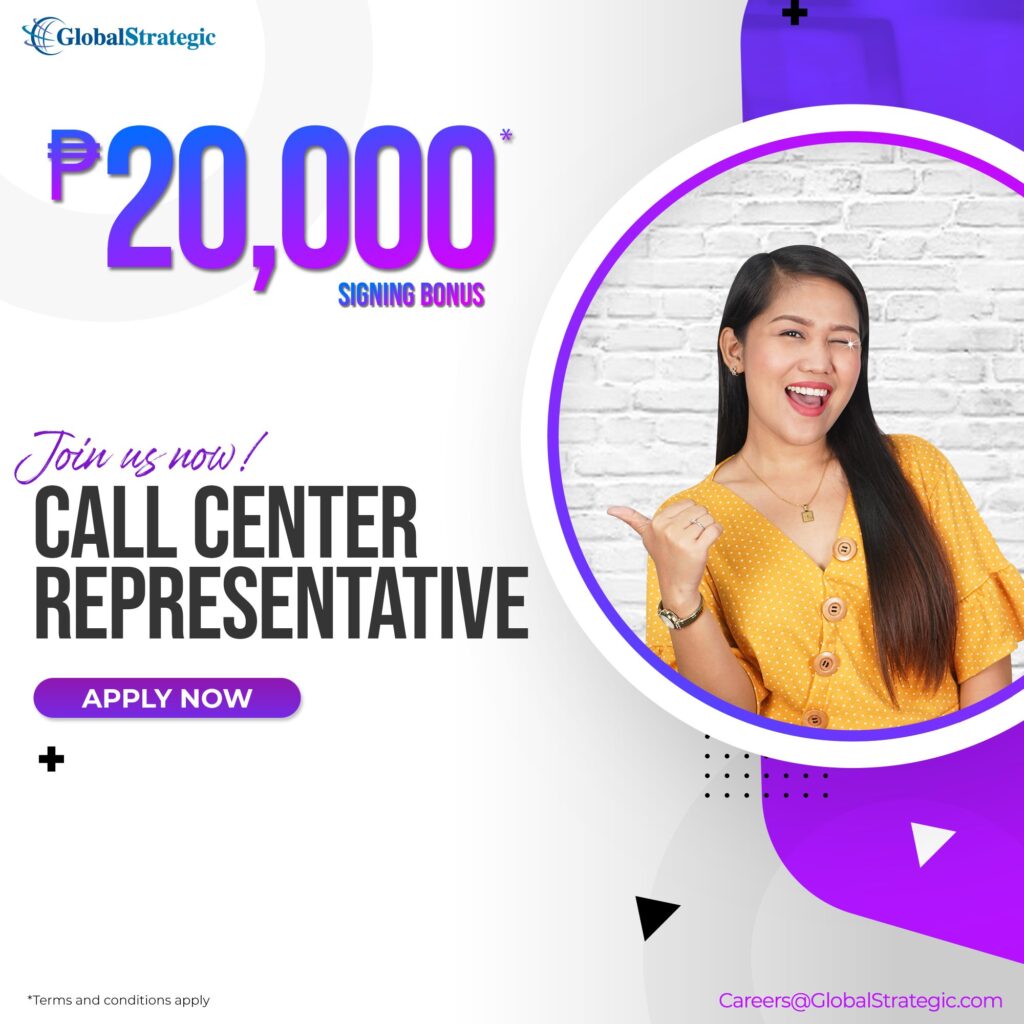 So, what exactly will your job description be as a Call Center Agent in the Philippines?
A call center agent or a call center representative is often tasked to answer a customer's questions regarding a certain product or service. Another one of the key functions of a CSR may be making outbound calls to customers.
However, this would still depend on the needs of the individual client. For example, one account may be more inclined toward technical issues.
Meanwhile, another would focus mostly on billing, warranties, and shipments. Generally, when it comes to being a Call Center Agent, your main task would be to assist customers and provide information on behalf of a company, usually over the phone (though some may involve email communication as well).
Functions and Responsibilities of a Call Center Agent
Helping clients navigate through a new product or service.
Providing information or assistance on a product or service for a client.
Provide technical support/ troubleshooting, and assistance.
Fixing issues for clients remotely.
Reviewing customer accounts, and giving updates regarding billing and warranties.
De-escalate irate customers who are dissatisfied with a product or service.
Generate leads or sales for products or services
Another thing to consider is if you'll be assigned to inbound or outbound duties. The main difference between the two is making or answering calls.
If you're assigned to an inbound account – you'd be tasked to answer calls from customers, clients, or those seeking inquiries. Meanwhile, outbound call center agents are the ones making calls. However, there will be instances where an inbound agent has to call back a customer for a follow-up.
Now that you've learned some of the key job descriptions of a Call Center Agent, we need to talk about the skills required to excel as one. As such, here is a list of skills call center representative needs.
Call Center Representative Qualifications
Being a CSR means that you have to use a variety of skills on a daily basis. Among the most important of these skills are strong communication skills. But sometimes, being good at English isn't enough.
In most cases, you also have to be excellent at conversing with other people. Moreover, you must have great listening skills as most of what you need to do is listen to clients and their issues.
Building rapport is another skill that a good CSR needs to bring to the table. Connecting with clients in an organic way not only makes your job easier but could also bring more business to the company.
With that said, here are some more examples of skills and qualities a Call Center Agent needs:
Being patient and understanding toward a client (especially irate ones)
Unfortunately, one thing that's synonymous with call center agents is "irate customers". So, if you want to start a career here, expect to meet a handful of these people.
Naturally, customers have a right to be upset when they have issues with a product they paid for. Sadly, most of this anger can be directed toward you. But, the reality is, that this anger is often due to a bad experience.
Now, your job is to address the client's issues in a calming manner. Make sure they understand that the issue will be resolved and that you emphasize with them.
As a call center agent, one of your duties is to present a satisfactory resolution to their issues. You do this by emphasizing a "call to action" phrase.
In most cases, call center agents have "scripts" prepared when they're facing irate customers. But, the reality is these scripts end up making you sound robotic. Nobody likes that and it's quite obvious.
Instead, what you could do is "structure" your responses instead of creating scripts. That way, you can adjust what you need to say depending on the customers' unique situation. Think of it as a "template" and not a "word for word" copy.
Excellent time management and organization skills
Multitasking is something that you need to learn as a call center agent. And, because of the fast-paced environment, you'll be in – you need to keep up.
The way you manage your time and organize your workflow can make a huge difference. For example, if you're troubleshooting a client's issue you obviously need to build rapport.
We do this in order to empathize with a client and make them realize that we're doing the best we can to help. So naturally, we build rapport by talking and learning a little bit about the clients, and their issues.
But at the same time, you need to check the tools available to you to try and resolve the issue at hand. You can't just get stuck in building rapport.
This is why the organization is important. As a call center agent, you need to set up your tools in an organized way so that you can fix issues in a timely manner.
Ability to adapt to changes quickly
Whether we like it or not, change is inevitable, especially in an industry as fast-paced as BPO. There will always be updates, shifting work schedules, changes in management, and even changes in work responsibilities.
That's why you always need to be on your toes and quickly adapt to the transforming landscape. Obviously, the biggest change you might see in a BPO company is changing schedules.
For most of us, this would be one of the toughest adjustments to do as our bodies have their own rhythm. Additionally, we'd also see changes in the tools used, clientele, accounts, and even workmates.
Literacy in computer hardware and software
One of the minimum qualifications for a call center agent is computer literacy. You need to know how to use basic software such as Microsoft Office tools.
However, if you're not that literate, you need to catch up fast. Training would be provided by BPO companies on how to use their software so you need to pay attention.
Along with this, clients might sometimes have issues related to hardware or software.
Knowledge of a company's product and services
As a call center agent, you're going to be held as an "expert" on your company, the services you provide, and the products you sell.
If you get a client or a potential customer that asks about a certain feature of a device and you can't answer, you're going to have a very bad time. So, invest your time well into learning about the company, the services, and the products it provides customers.
For troubleshooting, you also need to have a good grasp on how a product works, what needs to be done in order to fix common issues, and especially their price.
Even if you're inbound, there will be cases where you need to up-sell products to the client. If a client upgrades their services or product, then that brings value to the company and you'd get incentives for it.
Thus, look at yourself as an expert who provides expertise to clients.
Experience Required For A Call Center Agent
Entry-level call center agent positions typically don't need any experience. At Global Strategic, an applicant only needs to have good English communication skills and have completed at least two years in college.
Furthermore, those with vocational or short course certificates are also welcome to apply. Of course, experience in customer service and sales is a definite plus. Still, it's not a hard requirement if you have the right communication skills and attitude.
How To Get Hired As A Call Center Agent
Applying to become a CSR is easy enough, but the real challenge is getting hired. In the Philippines, the BPO industry is among the most competitive, and as such, companies are looking for those with potential for the long term.
Global Strategic is hiring Call Center Representatives in our Mandaluyong site located at Paragon Plaza, Lower Ground Floor, 162 EDSA, Mandaluyong City, and Negros Occidental site located at Global Strategic Building, Fordland 2, 2nd & 4th Floor, 11th Street Lacson, Bacolod City.
But before that, you might want to take a look at the common interview questions for call center applicants from the Philippines.
There is also a Mall Kiosk in Bacolod City stationed on the 2nd Floor, North Wing, SM Bacolod (Beside Cha Time and in front of SM Department Store entrance).
Whether you are looking to become a Call Center Representative or already are one and want to take the next step in your career journey, Global Strategic wants to hear from you. Apply today and become our newest Call Center Agent, Back Office Associate, or talk to our Recruiters about any of our other open positions.