Resume Writing Tips For Fresh Graduates From The Philippines
Writing a resume as a fresh graduate from the Philippines can be daunting – so we are going to provide a sample template that even those with no work experience can easily use. But before you dive into it and plug in your own details, we should first understand what exactly makes a resume stand out from the rest.
As a fresh graduate, chances are you probably have little to no professional work experience outside of your on-the-job training. So, what can you do to make your resume catch a recruiter's eye?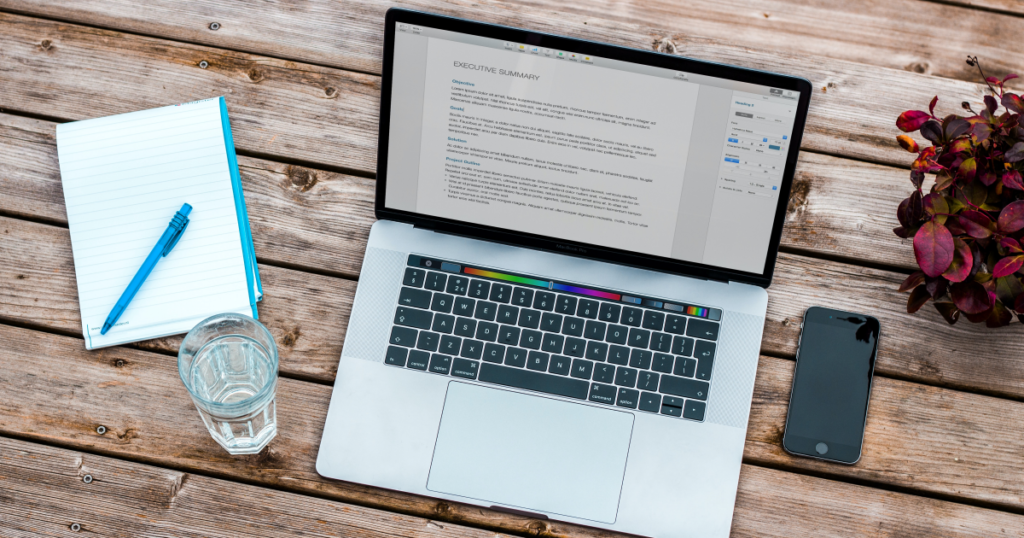 Do you go for a creative resume with vibrant colors? Do you go the minimalist route in your design? What are the skills that you should highlight? Should you add your hobbies and interests?
Naturally, all these questions (and more) are things that we need to consider. However, there are certain guidelines that we can follow that is universally proven to be effective for resume building.
With that said, here are important tips specifically for Filipino fresh graduates when it comes to creating their resumes:
Highlight Your Most Notable Skills
Because you have no experience, it's better that you highlight your talents and skills. Also, you shouldn't just highlight the same skills for each application.
Instead, you should do research on the company you're applying for and the job description. Afterward, cater your skills to highlight the needs of the job description and the company.
For example, you're quite good at cooking. Surely, that's an impressive skill in itself. However, if you're applying for a data entry job, do you think that's relevant?
As such, you need to strategically assess what skills would be required for the job you're applying for. So, if we're talking about data entry, then your skills can include: "words per minute", "excellent typing skills", "proficient with Microsoft Office tools", and much more.
In summary, when highlighting skills, here's a little checklist you can go back to:
Check the job description
Highlight skills that cater to the job description
Think about how you can relate your skills to the job objectives.
Include achievements related to the job position you're applying for
Even with no experience, there's a high chance that we've got some achievements when we were studying. Moreover, recall all the clubs that you've joined, extra-curricular activities, or volunteer work.
Once you've listed them down, think about how these achievements relate to the position. Don't just put everything there in the hopes of "beefing" up your resume.
For example, if the job you're applying for is a call center agent position, you can include achievements or awards related to communication, team building, or leadership skills.
Let's say you've joined an organization in college. And, in that org, you managed to get a position as one of the officers. That already shows that you have leadership abilities and know how to work with a team.
But, what if you didn't necessarily get any "achievements" when you were in school?
Generally, you don't need to include academic achievements. So, what else can you put in this part of your resume?
The simple solution – Don't include your achievements! Clearly, having achievements is a big bonus to your resume. However, you don't need to force anything onto your resume.
With the amount of resumes recruiters need to go through on a daily basis, chances are that they'll only take a glance. According to an article from Career. Mercury, recruiters spend an average of 7 seconds when reviewing a resume.
So, you don't have to worry about filling up your resume with everything you can think of. Again, just highlight your strengths and cater them to the position.
Cater your resume for specific job positions/companies
As we've discussed earlier, it's better to cater your resume to meet the specific requirements of a company or job position. Thus, you can't just create one resume and send that to every company that you apply for.
There are several reasons why this is beneficial for you as an applicant.
It shows recruiters that you've done research on the company beforehand. Next, even if you're applying for the same job in different companies, there will be cases where the job descriptions would be different.
More importantly, it emphasizes your employer's needs. Recruiters want to know how a candidate will help them achieve their objectives.
Focusing on your most relevant abilities and accomplishments demonstrates to them that you are thinking about their needs, not just what the position can provide for you.
Don't be afraid to include your hobbies/passions
Aside from your technical and soft skills, most companies would want to check if you're a fit for the company's work environment. Besides your work, what you do in your free time can actually give recruiters a grasp of who you really are as a person.
Oftentimes, applicants have "scripted" answers to common interview questions. However, recruiters can generally see right through this.
So, it's better to put your hobbies and passions on your resume so you have something to talk about. It's natural to get nervous during interviews, but, for most people, talking about their passions and hobbies comes naturally.
Review the things you put on your resume
Don't get caught off guard if an interviewer asks questions about you based on your resume. During an interview, recruiters would scan your resume to see anything that stands out and then asks you about it.
For example, if you've written down that you've had job experiences in four call centers, there's a good chance that you'll be asked about it.
Meanwhile, for those with no experience, interviewers would often go through your skills and achievements. So, be sure that you've reviewed them so that you can expound on the things you've written down.
Take the things that you've put on your resume as an opportunity to expound on key aspects of yourself. If you do, then you don't have anything to worry about during your next interview.
Resume Samples For No Experience Fresh Grads
In the example below, we can see an easy-to-read resume. It's minimalistic in its design and focused on its intent. At a glance, recruiters can identify which section contains the applicant's personal info and which contains skills related to the technical aspect of the job.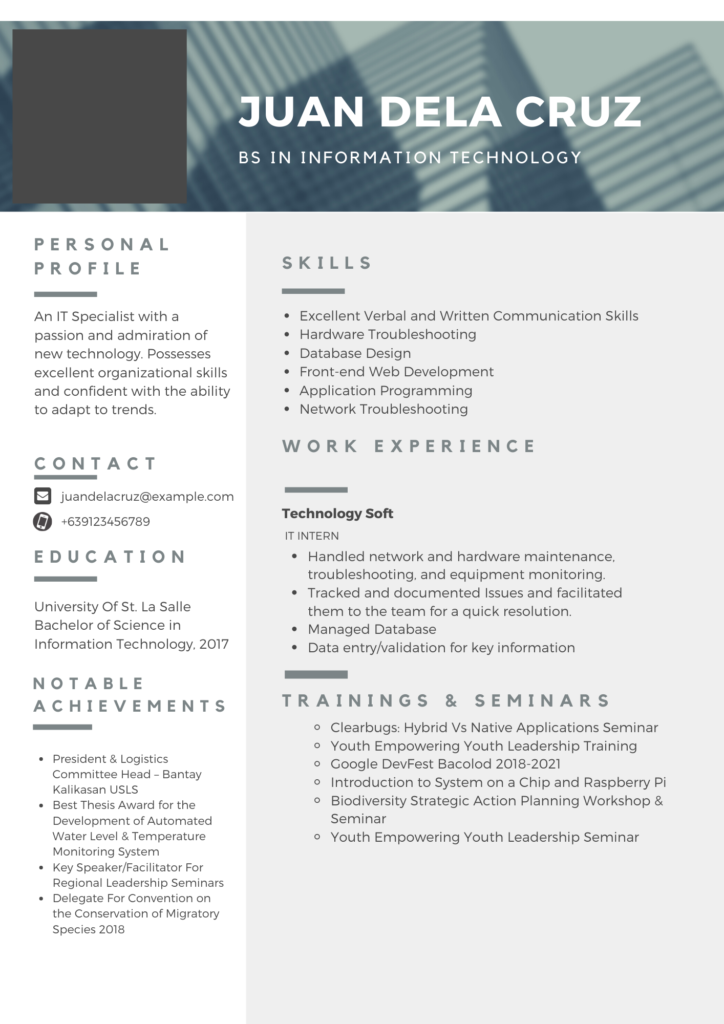 Due to the lack of work experience, it's important to highlight other aspects such as your skills, achievements, and training/seminars that you've attended. Additionally, you can also include the clubs and organizations you've joined during your academic years as well.
Keep in mind that you can easily highlight your role in an organization or club and relate it to the position you are applying for. Furthermore, it can show that you excel in soft skills or that you're team-oriented and already know how to work with a group.
Here's another example resume that uses an even more minimalist design.
As you can see, the resume doesn't have anything fancy on it. It's simply just text and some lines to separate parts of the resume. However, this is still a good example of a resume because it's straightforward and has an easy flow.
Recruiters can easily skim through the resume as the information is already top to bottom. This is also easier for the eyes. Additionally, the resume also provides ample details regarding previous job experience.
Although the applicant could have added some soft skills there such as communication skills. Moreover, Microsoft Office applications may also be omitted since this could be considered common knowledge and a minimum requirement for most job applications.
Finally, something that you need to consider when handing out your resumes is to study everything that you've put on there. Because chances are the interviewers would ask you questions based on what's on your resume.
Interviewers would probably ask basic questions such as "tell me about yourself" or "why do you want to work for this company". Those are questions you can easily prepare for, but the bulk of the technical aspect of an interview would clearly depend on the skills you placed.
Now that you've got an idea of how to build a simple resume, it's time to take the next step after graduating – applying for a job!
Apply with Global Strategic today and send us your cover letter and resume- we have a number of different career opportunities and would love to hear from you and see which is the right one for your career journey!