Finding qualified real estate virtual assistants in countries such as the Philippines is easy. But, what are the traits that make them qualified?
Real estate agents have trouble scaling their businesses. As it grows, so does the workload. However, a lot of agents can't afford to hire locally.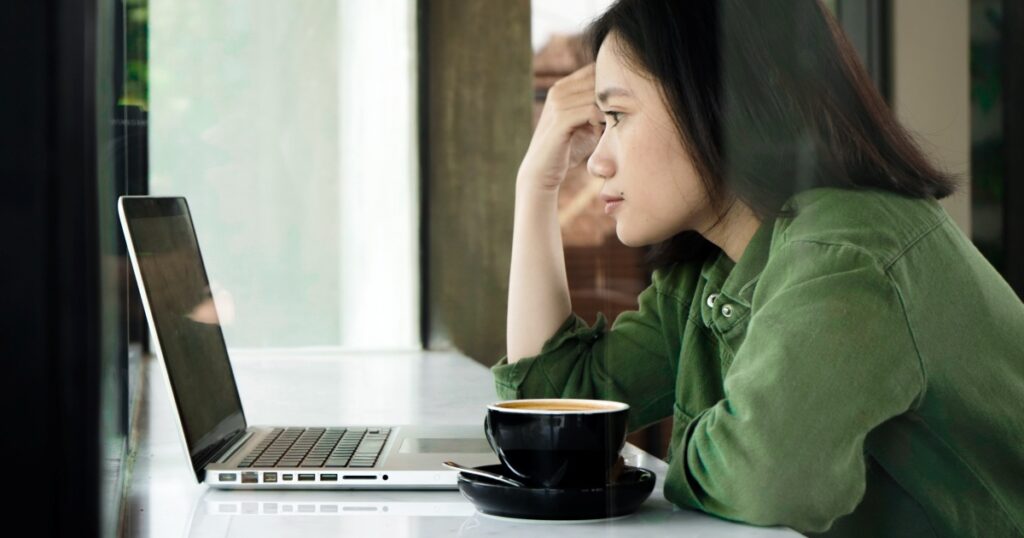 So, the best alternative is outsourcing virtual assistants to help with repetitive tasks, documents, and other administrative duties.
With that said, how exactly do you find qualified, cost-effective virtual assistants that can get the job done?
What Makes Real Estate Virtual Assistants Qualified?
When we talk about the qualifications of a virtual assistant – this could mean many things. Even though real estate agents are in the same industry, the pain points of each individual business or firm are different.
So, to answer the question "What Makes A Real Estate Virtual Assistant Qualified?" – you have to think about what tasks take up most of your time. When doing so, try to separate the essential (dollar productive) vs non-essential tasks.
You can do this for one week to give you a baseline for what you need to be done. Log the tasks you're doing, the time spent per day or week doing the tasks, and if it's essential or not.
Here's an example table: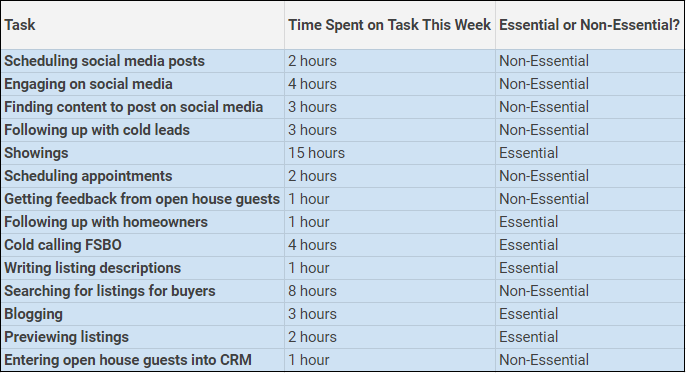 As per the table above, you can see that non-essential tasks like social media, lead generation, cold calling follow-ups, and especially, listing for buyers, take up a bulk of a real estate agent's weekly workload. Generally, you can easily outsource these non-essential tasks.
Freeing up time means you get more time to focus on core tasks that drive profit for your firm. And, qualified real estate virtual assistants are those with experience or training in the tasks listed above.
Here are some more examples of real-estate tasks you can outsource to a virtual assistant:
Broker's Price Opinion
REO Billing and Reimbursement
Social Media Marketing
REO Administrative Solutions
Accounting and Bookkeeping
How Much Do Qualified Real Estate Virtual Assistants Cost?
Pricing depends on the specific roles that a business needs to fill. But, the rates of virtual assistants in the Philippines range from $1.50 on the low end and $20 on the high end.
However, this rate mostly applies to freelance virtual assistants you'd find on platforms such as Upwork. Those with $1.50/hour and below rates are mostly entry-level VAs with little to no proper training.
Meanwhile, hiring from a Business Process Outsourcing (BPO) company in the Philippines ensures that the real estate virtual assistants are qualified and professionally trained. The rate for VAs here ranges from $8.50/hr or higher depending on the task.
You can also hire in other countries such as India. But, when it comes to India Vs the Philippines, the latter does cost less, however, the proficiency in English, accent, and the westernized culture of Filipinos make them a perfect fit in the real estate industry.
Now that you know what makes a real estate virtual assistant qualified and the standard rates, let's talk about the hiring process.
How To Hire A Real Estate Virtual Assistant
Online Job Boards
There are two primary ways you can source or find a real estate VA. First, you have your online job boards. These are sites such as Upwork and OnlineJobsPh.
Here, you get a list of virtual assistant candidates in several niches including real estate. You get to see their resumes, previous job history, and reviews. Additionally, you can also post job listings so interested candidates can come to you to apply.
Still, there are pros and cons to this approach that we need to consider.
Pros and Cons Of Hiring Real Estate Virtual Assistants From Online Job Boards:
Online Job Boards are simple and effective platforms you can use to find talented virtual assistants. Also, creating an account and posting a job listing takes a few minutes. That said, here are some things you need to think about before hiring from these platforms:
PROS of Online Job Boards
Easy account creation
Can Source Thousands Of Talent
You get to be visible to candidates actively looking for work
CONS of Online Job Boards
An overwhelming number of applicants (especially if the rate is above $3-$5 USD)
Interviewing Applicants takes up a lot of time for in-house staff
The onboarding process can be complicated with everything done virtually
Frequent Blackouts
Pros And Cons Of Hiring Through Business Process Outsourcing (BPO)
The BPO industry in the Philippines is massive. Currently, the country is known as the BPO Capital of the World – and for good reason.
Previously, BPOs became synonymous with call centers. But, thanks to advancements in technology, the infrastructure of the industry grew rapidly. Now, BPOs cover a variety of niches from property management, real estate, social media, and more.
Going to a BPO Company means that you only need to talk at a managerial level when hiring virtual assistants. A sales representative would contact you after providing details through their website with the pricing and other important info.
That said, here are some of the pros and cons you need to consider:
PROS of BPOs
Access to a wide talent pool
24/7 Operations
Access to highly skilled and professionally trained workers
Enhanced Flexibility and Cost Savings
Updated Equipment / Backup Power In Case Of Blackouts
BPOs cover all onboarding processes
Ensured Data Security
CONS Of BPOs
Loss Of Control
Hidden Costs
Overdependence
How do I know if I should be looking at outsourcing?
Assess your company's staffing. Do you experience seasonal volume swings? Have you seen high attrition in accounting, customer service, or administration?
If you answered yes to any of them, an offshore partner could help. Your business will gain much-needed flexibility, allowing it to better handle industry ebbs and flows.
Offshore staffing is easier and more cost-effective than in our customers' operations. By outsourcing repeatable, data-heavy, redundant, and time-consuming processes, you can increase internal efficiency, staff productivity, and overall cost savings.
Key Takeaways
Outsourcing is the best way you can scale your business. It's cost-effective, efficient, and frees up your time so you can focus on core tasks.
You can choose to outsource through online platforms but this takes time. Furthermore, you'd need to handle the onboarding process, training, and payroll which can take up even more time.
But, with the help of a BPO, you get to focus on your core tasks and leave the rest of the onboarding process to your service provider. Moreover, you get access to a large talent pool of workers trained by industry professionals with years of experience in real estate.
If you're ready to start your outsourcing journey, Global Strategic can help with your business needs and give you the Strategic Advantage needed to edge out the competition. Contact us today and learn more about how offshore outsourcing to the Philippines can help your business and future business growth.