"You know, as most entrepreneurs do, that a company is only as good as its people. The hard part is actually building the team that will embody your company culture and propel you forward. "- Kathryn Minshew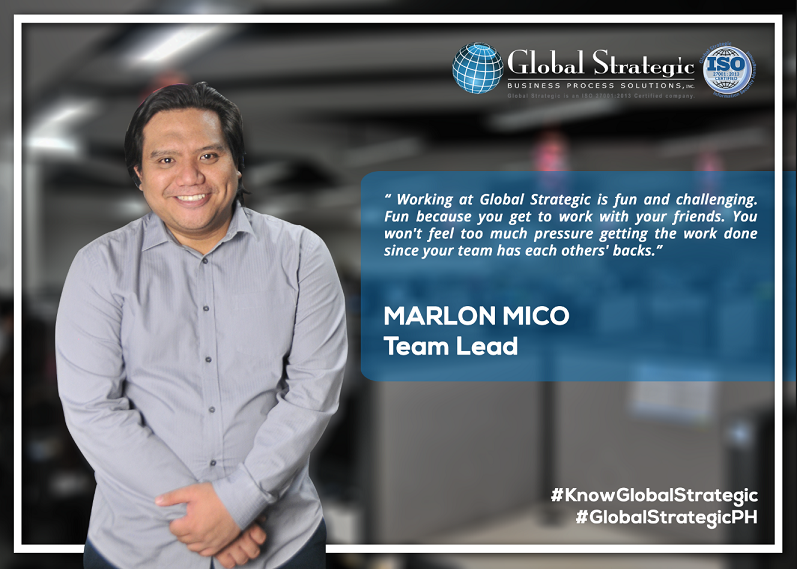 This quote is especially true for BPO companies as employees only tend to stay for a year or two before looking for greener pastures elsewhere. This is why at Global Strategic, we value and enrich good company culture.
When it comes to loyalty, there's no doubt that our very own Marlon Mico is on the top of the list. He's been with the company for 7 years (and counting…), continuously providing stellar work ethic and upholding the company's #StrategicallyAwesome culture.
"Initially, I planned on staying for only 2 years and during that time, I thought that was long already!"
Straight out of College, Marlon was hired as a Legal Support Specialist in #GlobalStrategicPH in early 2009. Of course, 2 years proved to be not nearly enough to satisfy this young man who is out to prove his worth in the corporate world. He handled different tasks from Mortgage Servicing to Customer Service. Eventually, his hard work paid off and he has been promoted to be a Team Lead handling various accounts.
"It's how everyone is treating each other. We treat each other like a family. No one is treated like a stranger. Also, the management lets me do one of the things that I love which is dancing."
With optimism and an array of talents, Marlon has contributed to the already rich culture of the Global Strategic family. He gathered co-workers that share the same passion for dancing and formed the Global Strategic Dance Crew. The group has grown bigger and better since.
"The relationship that we build with our co-workers is what makes me like to work harder at Global Strategic."
But it's not just the dancing and camaraderie that makes the company unique and enjoyable. It's the work attitude of every processor, agent and leader. The team spirit is very much alive and it is always very encouraging to work with a competent crew.
"It gives me a renewed sense of accomplishment when I got the chance to train people with Foreclosure and I see them being disseminated to different teams. Also, when someone I trained is being considered for promotion."
Marlon embodies what it means to be a leader, a team player and a role model of Global Strategic core values. Now as a part of the leadership team, he has a new set of goals and a higher sense of accomplishments to keep him motivated and striving for excellence.
"Working at Global Strategic is fun and challenging. Fun, because you get to work with your friends. You won't feel too much pressure getting the work done for your team has each other's backs. You know that whenever you are uncertain about some things, the people around you are there for support. Challenging in a sense that it can bring out the best in you. You will just realize that you have done something that you thought you couldn't."
But what exactly is the best thing about being part of Global Strategic? For Marlon, it's growing and maturing with the company, developing his talents and discovering new things about himself with the help of his co-workers. What better way to challenge yourself than trying new things!
"Global Strategic is like a home to me. It helped me to be more confident, in believing that I can lead a team, and to be a good influence to others. Being exposed to different clients broadened my knowledge about the industry and made me more flexible. Also, Global Strategic enhanced my abilities to take on any task given to us. Most of the things that I know, I learned here."
Work and personal life is sometimes difficult to balance. But if you're part of a #StrategicallyAwesome working environment like Marlon, you'll discover that learning, and having fun while making a living is totally achievable! We just have to make the leap!
We wish you the best in your career, Marlon! Continue to inspire people and always share your best practice to everyone in need and surely, great things will come out of it!
Marlon is one of many highly trained and experienced staff members at Global Strategic. Looking for someone like Marlon to help with your Legal Support, Mortgage Servicing, Customer Service or another outsourced task?