"If you take care of your employees they will take care of your customers and your business will take care of itself." – J.W. Marriot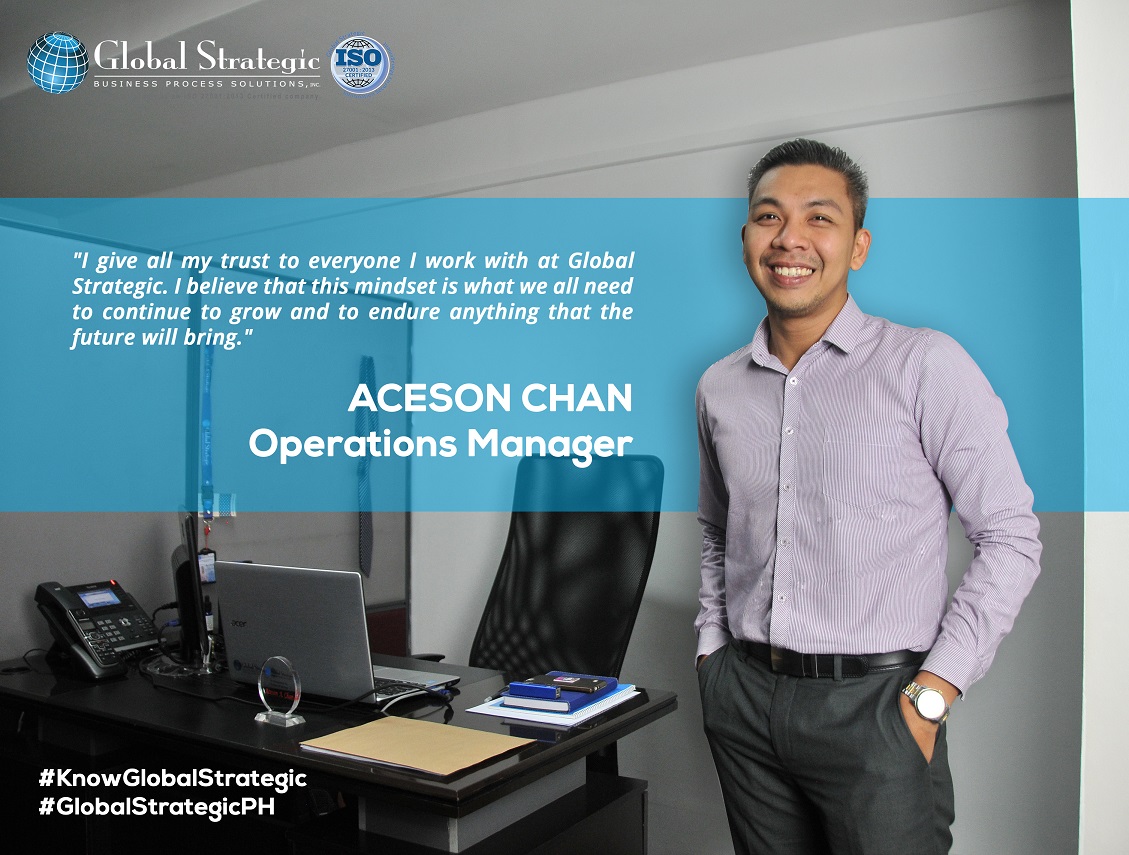 The BPO Industry in the Philippines is always associated with customer service, back office work and a whole lot of never ending possibilities.  What it is seldom paired with however, is having long tenured employees.
With the rapidly evolving demands in services and hiring needs, job seekers tend to explore more opportunities by jumping from one company to another.  Staff members that stay and grow with the same company are now rare gems to find.
This is what Global Strategic has been perfecting for the past 11 years.  The company believes that taking care of their staff equates to them taking care of their clients, and it has proven effective so far.
This year, Global Strategic celebrates a decade of working with one of their trailblazers.  His loyalty and outstanding dedication cannot be left unnoticed so we had a little chat with him to impart his #StrategicallyAwesome wisdom with the new generation of agents in the Business Process Outsourcing industry in the Philippines.
Aceson Chan or "Ace" to his colleagues is currently one of the Operations Managers of the Global Strategic family.  He is one of the pioneers of the Legal Support Services team when Global Strategic started.  It seems only yesterday that they would be working in a small rented office with the entire staff in one long table, and now a decade later, he is overseeing operations of over 150 employees that handle a wide array of business process solutions like Virtual Assistance, Recruitment, Accounting and Real Estate services.
So what does it take to make a bright young mind with a lot of potential decide to stay in a small to medium sized company instead of checking if the grass is greener on the other side?  It is the right combination of challenges, motivation and passion!
"The challenges I face and the pursuit to overcome them motivate me to work every day. I believe that the length of my tenure isn't important anymore – I'm going more for what I can contribute to the development of my fellow employees."
But 10 years?  For most young people, that is way too long of a commitment to a workplace! Feeling at home and at the same time having constant challenges is a different story though.  When asked if he expected to stay this long, without hesitation, his answer was "Yes!"
"…I'd also say that I grew more and more connected with the company and its people as I stayed longer. The years go by quickly because I feel right at home."
An incredible work atmosphere, amazing co-workers, and challenging projects, what else is there to love? Apparently, there is more!
"There are many things to like and love about Global Strategic. My business skills have improved and the company has also helped develop my personality."
But does it not grow old? What else can give you a sense of accomplishment while working in the same office when you have learned the ins and outs of the tasks and have met every single new employee? It is the fact that now it is your turn to impart the wisdom.
"I'd like to think that I am a positive agent of Global Strategic's vision to give endless opportunities to everyone. I take pride in the fact that we provide people with livelihood to help their families and also prepare them for greater things."
So how does a company contribute to someone's professional development? It is by providing adequate training and opportunities for growth, paired with constant support and trust on the staff.  After all, a satisfied workforce provides top notch performance.
"Global Strategic definitely is a big factor in my professional development. I also recognize this as a challenge to develop more leaders in the company and to guide them as they grow."
So in this day and age where there are countless BPO companies that offer even the most basic services to clients around the world, what makes Global Strategic Business Process Solutions stand out? It is the agents working on their assigned outsourced tasks and that they are not only well trained experts but also passionate in their endeavor with a strong sense of ownership on their work output.
"I give all my trust to everyone I work with at Global Strategic. I believe that this mind-set is what we all need to continue to grow and to endure anything that the future will bring."
Ace is just one of the members of Global Strategic's ever growing family of efficiently trained and highly motivated individuals.  Thinking about outsourcing but still looking for the best fit for your business' needs?  Let us help you!